Booking an Appointment
Appointments
To schedule a counselling appointment, students can drop-in to the Faculty of Student Development Student Services reception between 8:30 a.m. and 4 p.m. from Monday to Friday in Old Main 1631; email fsd@tru.ca; or call 250-828-5023. Appointments are being offered in person and virtually.
If this is your first visit to counselling, you will need to review, complete and submit the following forms:
Complete PDFs:
Download the PDFs, fill them out and deliver them to OM 1631 or email them to fsd@tru.ca. The first two forms require an e-signature if you are submitting them by email.
If you are an Indigenous student, you have the option of accessing support at Cplul'kw'ten – the Gathering Place: a home away from home.
Cancellations
If you are unable to attend your appointment, please notify reception at least 24 hours before your scheduled appointment. Messages and correspondence will be responded to during regular office hours.
First visits
If this is your first visit to counselling:
After completing the necessary forms, you will meet with a counsellor to clarify your needs and come up with a plan to meet your needs and reach your goals.
This plan may include self-help resources, psychoeducational workshops and groups, individual counselling and community referrals.
---
keep.meSAFE is a great resource if you need to connect with someone regarding your health during a time we are closed or unavailable.
To learn more about how to navigate the keep.meSAFE app, watch this step-by-step
video
.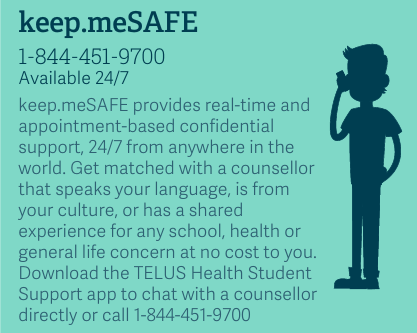 ---
Crisis
Counselling Services reserves a limited number of appointments to provide brief assistance to students dealing with a personal crisis that requires urgent attention. For additional or after-hours support, refer to the organizations listed below: