Multi-Faith Chaplaincy
TRU Multi-Faith chaplains respect individuals of all faith traditions and spiritual expressions and serve them equally without discrimination.
A Multi-Faith Chaplaincy on campus provides religious and spiritual care to the TRU community's students, faculty and staff. They provide an operating model of interfaith respect and cooperation. The Multi-Faith Chaplaincy acts as a religious and spiritual resource, encouraging thoughtful reflection and dialogue.
TRU also provides a Multi-Faith Space where members of our TRU community can reflect, pray and meditate.
Aims and Objectives
To participate in and contribute to all aspects of TRU experience from a religious or spiritual perspective
To provide religious and spiritual care for the diverse membership of the TRU community
To work as a team, exemplifying multi-faith dialogue and cooperation
To serve co-operatively with TRU's Student Services Counselling, Wellness Centre and other support service providers
To support and encourage members of the TRU community in their relationships with the broader community in respect of religious or spiritual interests and concerns
Office Hours
Multi-Faith Prayer Room: OM 2494 and OM 2498
Multi-Faith Chaplaincy Office: OM 1421
Phone: 250-371-5940
Email: Please email the Multi-Faith chaplains individually or drop in to OM 1421
---
Monday: Jeff 11:00 a.m. - 1:00 p.m.
Tuesday: Ven. Ani Gawa 10:00 a.m. - 1:00 p.m.
Wednesday: Narayan 10:00 a.m. - 4:00 p.m.
Thursday: Rev. Pat 9:00 a.m. - 12:00 p.m. | Rev. Tomas 10:00 a.m. - 12:00 p.m.
Friday: Hari 9:00 - 11:00 a.m. | Rev. Jane 11:00 a.m. - 1:00 p.m. | Ahmed 3:00 - 4:30 p.m.
What We offer
Spiritual or religious supports and encouragement
Guidance and resources in times of personal concern, conflict or crisis
Opportunities for companionship, prayer, study and service on campus
Participation in educational events related to spiritual and religious insight and experience
Celebration of holy days and commemorative occasions
Connection with local and regional faith communities and events on and off-campus
Multi-Faith Calendar
Meet the Team
To book an appointment with a specific chaplain, email the chaplain listed below and a meeting will be set up.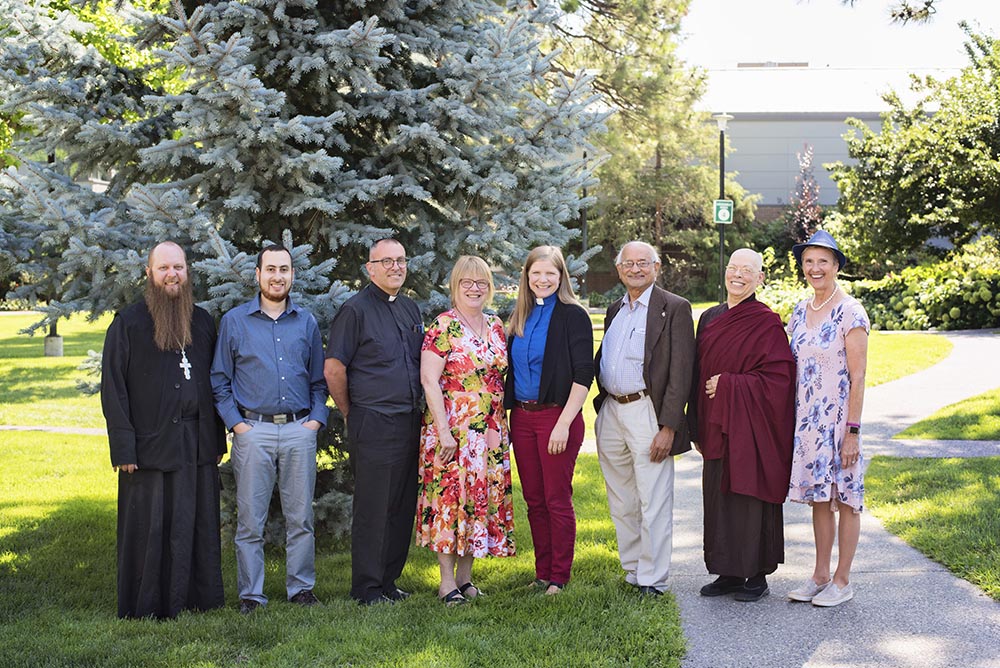 Resources
Spiritual Needs
Spiritual needs and concerns usually relate to what we call the "big" questions of life. These questions may include:
Why is this happening?
Why is this happening to me?
What does it all mean?
What is the purpose or meaning of life?
How do I make sense of everything?
Where do I come from?
What gives me comfort and hope?
What happens after death?
What do I trust? Who do I trust?
What, or who – beyond myself – do I believe is important in my life?
Who is my "beloved community" – who loves me and is loved by me, no matter what?
What is truth? Is there such a thing?
How can faith strengthen life on campus?
How faith can guide us in difficult times?
Some people find meaning, comfort, hope, goodness and community through their religious practice, beliefs and/or their community of faith. Some people do not. Regardless of whether religious faith is part of a person's life, spiritual concerns, resources and needs can still be very important, especially when life circumstances are in transition or crisis.
Common Grounds for Learning
Bahai "Lay not on any soul a load that you would not wish to be laid upon you, and desire not for anyone the things you would not desire for yourself."
Buddhism "Treat not others in ways that you yourself would find hurtful."
Christianity "In everything, do to others as you would have them do to you; for this is the law and the prophets."
Confucianism "One word which sums up the basis of all good conduct … loving-kindness. do not do to others what you do not want done to yourself."
Hinduism "This is the sum of duty; do not do to others what would cause pain if done to you."
Islam "Not one of you truly believes until you wish for others what you wish for yourself."
Judaism "What is hateful to you, do not do to your neighbour. This is the whole Torah; all the rest is commentary. Go and learn it."
Native Spirituality "We are as much alive as we keep the earth alive."
Sikhism "I am a stranger to no one, and no one is a stranger to me. Indeed I am a friend to all."
Taoism "Regard your neighbour's gain as your own gain and your neighbour's loss as your own loss."
Unitarianism "We affirm and promote respect for the interdependent web of all existence of which we are a part."