Tobacco Use
Tobacco Policy
TRU is becoming a Clean Air Friendly Campus and as such developed a tobacco policy that came into effect in 2014. TRU is now a smoke-free campus except in nine designated smoking areas, which are shown on the map below.
Please note that tobacco products include all lit and smokeless tobacco, electronic cigarettes, cigars, pipes, cigarettes, medicinal marijuana, and any similar device.
Download copy of new policy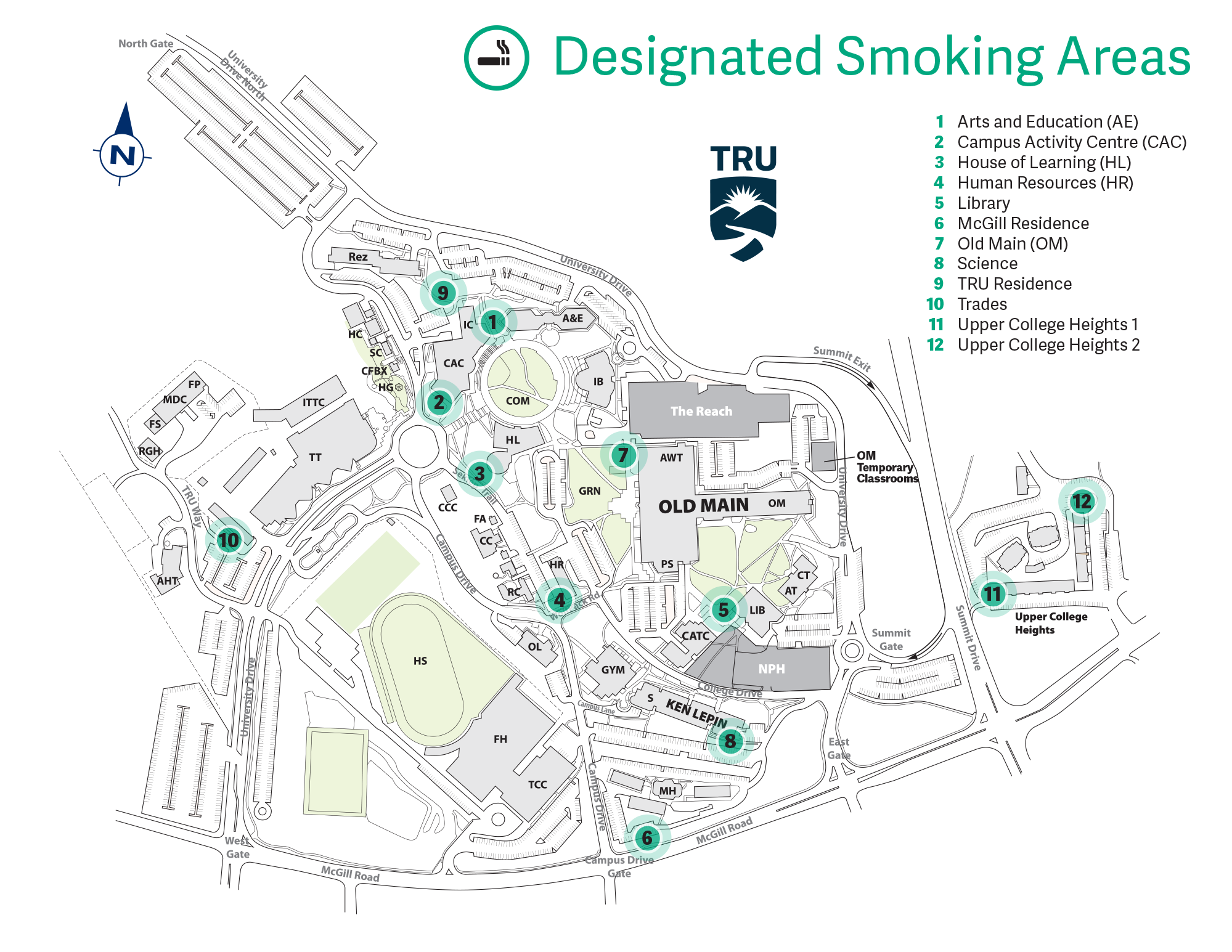 ---
Tobacco Use
Are you ready to quit or cut back your tobacco use? Not yet convinced? Well the following table illustrates the positive changes your body will go through if you decide to make the healthy choice to quit smoking* (maybe this will convince you):
**Note: Time periods mentioned are to be taken as a general measure only, will vary from individual to individual and are dependent upon the length of habit and amount smoked. Over time, if no permanent damage has been done, the ex-smoker approaches the status of someone who never smoked.
Within 20 minutes after the last cigarette**

Blood pressure drops to normal
Pulse rate drops to normal
Skin temperature of hands and feet increases to normal

After 8 hours

Carbon monoxide level in blood drops
Oxygen level in the blood increases

After 24 hours

Chance of heart attack is reduced

After 48 hours

Nerve endings start to re-grow
Ability to smell and taste is enhanced

After 72 hours

Bronchial tubes relax and breathing becomes easier
Lung capacity increases

In 2 weeks - 3 months

Circulation improves
Walking becomes easier
Lung function may increase up to 20%

In 1 -9 months

Coughing, sinus congestions, fatigue, shortness of breath decreases remarkably
Cilia start to re-grow in the lungs (increases the ability of the body to handle mucus, clean the lungs and reduce infection)
The body's overall energy level increases

After 5 years

Pre-cancerous cells are replaced
Chance of other cancers - such as those of the mouth, larynx, esophagus, bladder, kidney and pancreas decreases (there are 50 chemicals in tobacco smoke that cause cancer)
*Table developed by the Royal Inland Hospital Cardio-Pulmonary Therapy Unit
Campus Quitting Resources
TRU Tobacco Education Clinic

This is a group of second-year respiratory therapy students who have received education and training to be your on-campus quitting resource. They are there to help support you in your quitting efforts by offering information, assistance, and physical assessments. Contact the TRU Tobacco Education Clinic for more info or to book an appointment.
Other Quitting Resources
FREE Nicotine Replacement Therapy and Medications
Did you know that if you live in BC and have a Personal Health number (Care Card) that you can receive 12 weeks of Nicotine Replacement Therpay (nicotine patch or gum) and possibly quitting meds (Champix and Zyban) for free? Contact Healthlink BC at 811 or check out their web site
Tobacco Free Tuesdays
Are you wanting to quit using tobacco but might not be quite ready to quit for good? Well what about just one day to start with?
If this sounds like something you are interested in you can register to WIN PRIZES!! Go to the QuitNow website and enter NOW! The next Tobacco FREE Tuesday contest happens on February 5th.
http://www.tobaccofreetuesdays.com
Quit Now Resource
This is an amazing site to help you succeed with your quitting attempt. You can register to receive text message reminders and encouragement. This is our Provincial go-to quit site! www.quitnow.ca
Quitters Unite
Another great site to recieve motivation and encouragement from other tobacco users who get the challenges of quitting, but also know it can be done!http://www.facebook.com/QuittersUnite
Additional Links
A FREE on-line cessation support group.
Source: BC Lung Foundation
Source: Health Canada
A new quitting site for the younger generation!