Footwear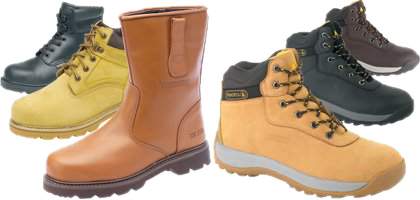 Workers are required to wear footwear to protect them from injury. The material and construction of this footwear must be appropriate to the protection required.
There are job activities and work environments where appropriate footwear must be worn to prevent injury caused by slipping, dampness, heat, cold, uneven ground or work surfaces that could twist the ankle, harmful materials that could contact the skin of the foot, ankle or lower leg, abrasion or hits to the ankle.
Suitable footwear, appropriate to the potential hazard(s) involved and the related protection required, shall be worn by all persons engaged in activities and environments as noted above. The intent of this requirement is to ensure that, where necessary, the footwear provides:
A physical barrier to prevent initial skin contact with any hazardous liquid.
A sole and heel of non-slip materials.
Adequate ankle support (where activities require this type of protection).
Where the person's job activity or work environment has a danger of injury to the toes, bones or soles of the feet, the footwear must incorporate devices to protect against the danger. The dangers can include, but not be limited to:
Tools, materials or equipment dropping or rolling onto the toes or top of the foot.
Stepping on sharp objects which can cut or puncture the sole of the foot.
If one or more of these dangers exist, individuals must wear footwear with the necessary features meeting the requirements of CSA Standard Z195 or equivalent. If the footwear does not have these protective features, the alternative of using footguards or other effective devices is acceptable.
Any type of footwear which has deteriorated to the point where it does not provide the required adequate protection, shall not be worn.
Persons who are required to work continually in areas which have the standing surface covered with water or other liquids, shall wear safety boots made of rubber or other synthetic materials which are impervious to the fluids.
Athletic shoes (i.e. running shoes, court shoes) provide a considerable degree of comfort and support to the foot in strenuous activities, but this type of footwear is only acceptable within the work environment where the style and construction provides adequate protection from the dangers to which the worker will be exposed. For example, mesh-type covering over the toe area would not be acceptable in a laboratory where there is a danger of chemicals dropping onto the foot. Low cut uppers will not be acceptable where there is a danger of abrasion to the ankle. The use of running shoes which are equipped with safety toes is not permitted within TRU operations.
The following table provides some guidance in determining what type of footwear would be appropriate for different applications. If anyone is unsure about what is the correct type of footwear to be used for a certain job, the Office of Safety and Emergency Management should be consulted.
Footwear requirements for different work activities

| Work Activity | Footwear Type |
| --- | --- |
| Office / classroom work, with no exposure to any hazardous chemical liquids, or to any physical hazards to the foot from falling objects, materials or liquids. | No special requirements. 
Non-slip soles are preferred, but not mandatory. |
| Office / classroom work, with some exposure to hazardous chemical liquids. Activities in any science laboratory setting. | Substantial footwear made of non-porous materials, which encloses the foot (i.e. nylon mesh running shoes would not be suitable). 
Non-slip soles are preferred. |
| Office work, with some exposure to physical hazards to the foot from falling objects, materials or non- caustic/corrosive liquids. | Substantial footwear which enclose the foot. 
Safety shoes are preferred, but not mandatory if the wearer is not regularly exposed to hazards. 
Non-slip soles are preferred. |
| Work in any industrial shop, i.e. heavy duty mechanic, automotive, carpentry, welding, electrical, etc. 
Regular work associated with any trade activity, i.e. carpentry, mechanical repair, electrical, etc. | Safety footwear meeting the requirements of CSA Standard Z195 "Safety Footwear", (i.e. safety boots) which are appropriate to the hazards involved. 
Non-slip soles are required. |
| Work in the outdoors, walking on uneven surfaces, climbing ladders, stairs, etc. | Substantial boots which provide adequate ankle support for the wearer. 
Safety boots may be required depending on work activity. 
Non-slip soles are required. |
Prohibited footwear

| Work Activity | Type of Footwear Prohibited |
| --- | --- |
| Regular work activities in a science laboratory. | Open footwear (i.e. thongs or sandals). 
Footwear made of porous materials (i.e. nylon, cloth) |
| Work in any industrial shop, i.e. heavy duty mechanic, automotive, carpentry, welding, electrical, etc. 
Regular work associated with any trade activity, i.e. carpentry, mechanical repair, electrical, etc. Work in the outdoors, walking on uneven surfaces, climbing ladders, stairs, etc. | Running shoes, thongs or sandals, cowboy boots. Open toed footwear. |
| When operating mobile equipment which has foot operated controls. | Platform fashion footwear. |
More information