WorkStudy Program
WorkStudy is a TRU funded financial assistance program running on the Kamloops and Williams Lake campuses which offers an opportunity for full-time Canadian students with financial need to work part-time in positions that accommodate their studies.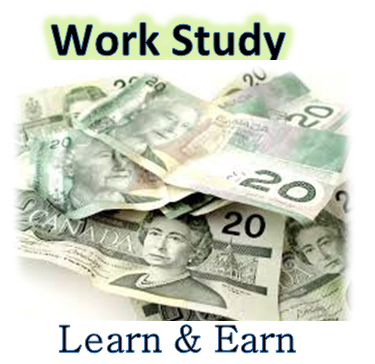 The application to confirm WorkStudy eligibility opens in myTRU (under Awards & Financial Aid) each year in August. Once your eligibility status for the program is pending, then review the online roster of positions to see which individual positions are open for job application. The status of individual positions is continually updated as they are filled.
You may not apply for any WorkStudy positions or submit resumes until after you have been fully approved for the program by Student Awards. International students are not permitted to apply at this time.
About WorkStudy
Do I qualify for WorkStudy?
Positions are available to university students who are
enrolled full-time,
Canadian citizens or permanent residents,
maintaining a satisfactory academic standing (2.00 Current GPA) and
who have demonstrated financial need via a student loan or bursary application
When is WorkStudy available?
The program runs in the fall and winter semesters only, with hiring starting at the beginning of September in the fall and running until all budgeted positions are filled.
What are the wages?
WorkStudy positions pay $16.75/hour, and are a maximum of eight hours per week (240 hours or up to $3,600 for the academic year). Please note that while most positions have flexible hours (which can work around exams and other academic deadlines), most positions also do not guarantee eight hours of work each week, so very few students would earn the maximum in a year. Consult with position supervisors on the probable hours before you accept any position.
What kinds of jobs are available?
For a listing of positions currently available, please see the roster of positions above, updated almost daily from late August until hiring ceases.
How do I apply?
The online application is available through myTRU, under Awards & Financial Aid. Please go to 'Apply for Award', from there you will see the available WorkStudy application. It will be available from late August until hiring closes, which can be in the third or fourth month of the fall semester.
How do I know if my application has been approved?
Check the status of your application under Awards & Financial Aid in myTRU. Once your WorkStudy application shows as Pending, your Eligibility Form will be emailed to you.
Advantages of the WorkStudy program
Assists students in financial need with a regular source of income that does not add to their debt load.
Offers students training and experience that will assist them in further studies and their eventual entrance into the workforce.
Allows students to help staff and faculty with projects and initiatives that would otherwise not be completed.
The WorkStudy program is provided as a need-based supplement to government student assistance, bursaries, and student and family resources.