Master of Science in Environmental Economics and Management
Lead change. Learn to balance planet and profit with environmentally stable business modelling.
Meet the urgent global need for environmentally responsible and sustainable business practices by gaining your Master of Science in Environmental Economics and Management (MScEEM).
With the MScEEM, you will learn the management practices and research skills required to balance economic demands with environmental sustainability. Prepare yourself to meet the needs of public and private organizations worldwide that are actively seeking out managers who can build and support business models that balance planet with profit.
As a MScEEM student, you will have the opportunity to complete a required graduate thesis or project. The thesis or project serves not only as a stepping stone to a PhD program, but also a competitive advantage by providing you the academic and applied research expertise, management skills and specialized knowledge you need to succeed in the emerging area of environmentally sustainable economics and management in the business sector.
Note: While similar to TRU's Master in Environmental Economics and Management (MEEM), the MScEEM program requires completion of a graduate thesis or project as opposed to the additional MBA program course requirements of the MEEM.
Why pursue a Master of Science in Environmental Economics and Management at TRU?
Complete the program 100% online, off-campus!
Students in Canada will be able to complete the MScEEM program completely virtually with no on-campus requirements.
The eight core 6000-level ECON courses, which are normally Credential granted Master of Science in Environmental Economics and Management Delivery New for Fall 2021. Students delivered face to-face on campus, are now available online during scheduled class times with all online and on-campus students in your cohort.
Non-core courses are available online or on-campus.
YOU decide how you learn.
In addition to the new 100% online study option, the MScEEM can also be completed on-campus or a combination of both online and on-campus.
Study part-time or full-time. As a part-time student, you must complete the program within five years of your start date.
Courses required for the MScEEM are offered once a year.
You can choose to begin your GDBA courses in September, January or May.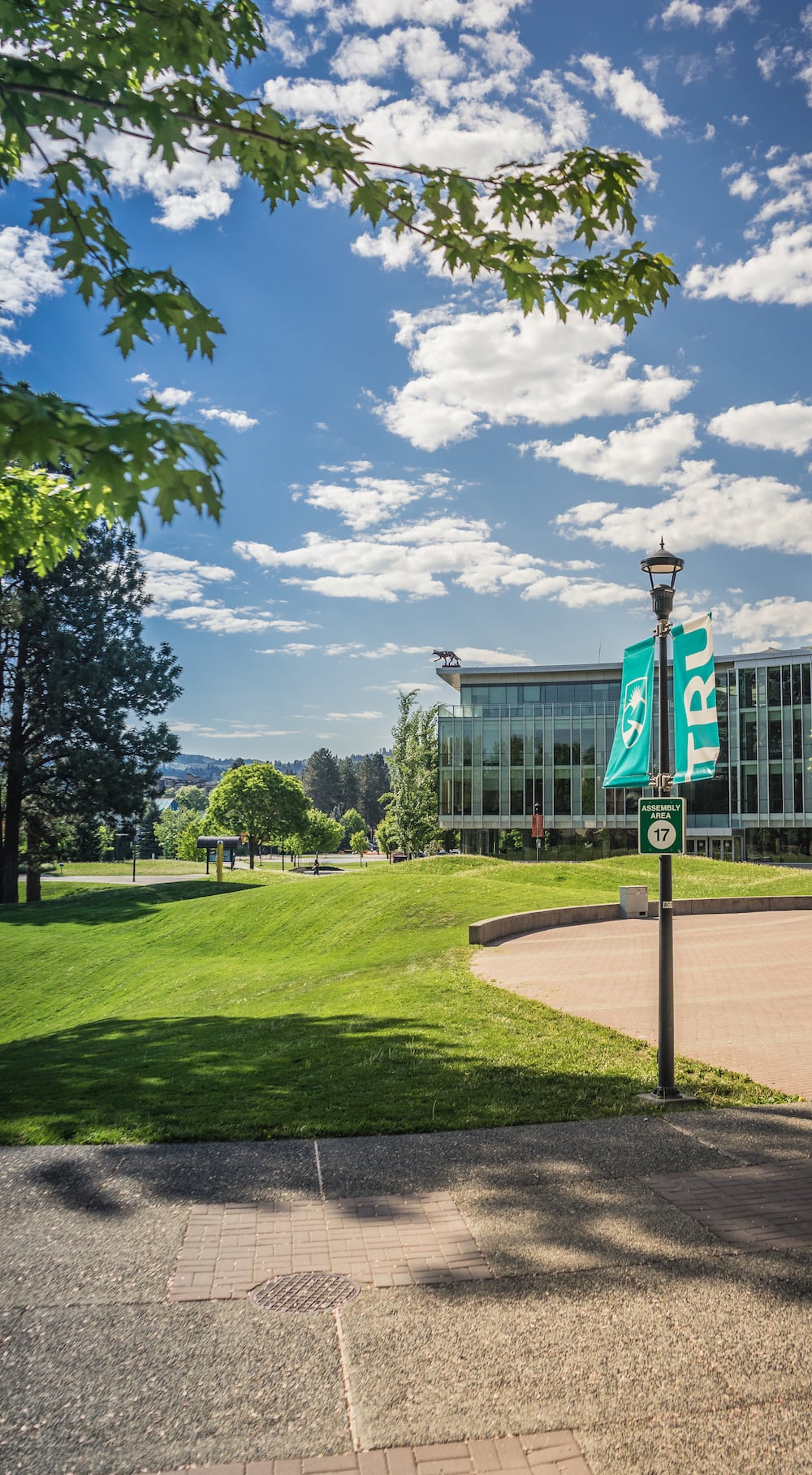 Gain the business acumen you need to succeed.
No matter what your educational background is, MScEEM's unique program structure ensures you gain the business knowledge and skills you need to successfully apply the economic sustainable management principles you've learned to a workplace environment.
How?
By gaining your Graduate Diploma in Business Administration (GDBA) before beginning year two of the MScEEM program. Once you have completed the six required business courses, you can apply for your GDBA and gain access into year two of the MScEEM.
Small class sizes also ensure you are consistently receiving high quality instruction and guidance from your instructors.
Access accelerated completion options.
If your previous post-secondary courses are acceptable, you may be able to receive course waivers for some–or all–of the six GDBA courses required to access year two of the MScEEM program.
If you already have a four-year business or commerce degree from an accepted institution, you may be able to move directly into year two of the program. A degree committee will assess your recent undergraduate or graduate course work in the area and decide if you are eligible for this option.
What will I learn?
The economic sustainable management sector is set for considerable growth and prolific job opportunities. The MScEEM will help you stand out to employers and land a job in the green market where you can be part of the preservation and restoration of environmental quality worldwide.
Upon graduation, you will be prepared to:
Analyze and synthesize local, regional and global environmental, natural resource and economic development problems.
Employ positive and normative economics for the study of sustainable management.
Formulate multiple and alternative solutions to problems effectively using analytical tools, individually and as a team player.
Illustrate that knowledge can be uncertain, ambiguous and limited, and how these limitations might influence results and interpretation of environmental problems and solutions.
Identify and analyze ethical and equity issues associated with environmental problems and solutions.
Practice the scientific methods, research preparation and styles of communication used to disseminate research.
Prepare and defend a thesis or project relating to an economic sustainability management issue or problem.
Prepare and effectively communicate scholarly work, opinions and analysis, both oral and written.
8%

Growth in Canada's environmental sector is expected by 2029.

233,500

job openings are expected by 2029 due to job growth and replacement.

1 in 26

workers in Canada were in a green job in 2020.

$163,006

Estimate salary of Environmental Economists in Canada by 2026, indicating a 14% increase.
Sources: Environmental Jobs and Hiring Trends in the Decade Ahead, 2020, ECO Canada, Source: Environmental Jobs and Hiring Trends in the Decade Ahead, 2020, ECO Canada, Source: Environmental Labour Outlook to 2025, ECO Canada, Source: Economic Research Institute
The Master of Science in Environmental Economics and Management (MScEEM) prepares you to make major contributions to the field of economic sustainable management by providing you with the required management skills, specialized knowledge and applied research expertise gained by completion of your graduate thesis or project. Completing the graduate thesis or project required by the MScEEM can help you gain access into a PhD program and eventually help you advance into a career in academia or consulting.
While similar to TRU's Master in Environmental Economics and Management (MEEM), the MScEEM program requires completion of a graduate thesis or project as opposed to the additional MBA program course requirements of the MEEM.
To view complete details of the program requirements please visit MScEEM Program Details.
TRU's admissions committee will review your educational background in order to determine if you will start in year one–GDBA–or placed directly into year two–the MScEEM program.
In order to be considered, you must meet all of the following admission requirements.
Academic Requirements
An acceptable three or four-year undergraduate degree in any discipline with a minimum B average (3.0 GPA) in the last 60 credits of study.
Successful completion of each course in the GDBA with a minimum overall GPA of 3.0.

GDBA course waivers may be granted based on previous academic record.
Applicants with an undergraduate degree in business from an acceptable institution may be exempt from this requirement.
Students required to complete BUSN 5040/5041 must achieve a B or better.
Language requirement
Applicants should demonstrate their language proficiency. Applicants who did not complete their undergraduate degree in an English language university in a country where the first language is English, should have a recent minimum academic IELTS score of 7.0 (with no band below 6.5) or institutional equivalent.
Interview and references requirement
Applicants should demonstrate the maturity, motivation, and communication skills to be successful in the program. This will be assessed by means of a personal written statement of purpose of study, a resume, and two letters of reference from academics or professionals. An interview and/or additional documentation may be required.
Quantitative skills requirement
Applicants should possess adequate quantitative skills assessed through successful completion of specific undergraduate courses in quantitative subjects.
Those deemed to be deficient in these areas may be accepted but required to undertake other approved courses or developmental activities to upgrade their skills.
Graduation Requirements
Once you have successfully completed each course–or received transfer credit– with an overall GPA of 3.0 and fulfilled the 18 credit TRU residency requirement, you will be awarded a MScEEM credential.
You will have to complete all course and program requirements within five years from your date of admission into the MScEEM program.
Apply Now
Your application package must include:
Online application
A non-refundable application fee.
A personal resumé.
A personal written statement of purpose of study (approximately 250 words).
An official copy of your transcripts from all post-secondary institutions attended (including a certified English language copy if original transcripts are not in English).
Students whose second language is English must instruct testing services to send a copy of their TOEFL or academic IELTS or iBT results to TRU (Institutional No. 8989) unless one is already on file at TRU.
TRU graduates do not need to request TRU transcripts.
Two reference forms completed by referees (academic or professional). Applicants will be provided with the form.
International applicants must upload all required documents at the time of application. Domestic applicants will receive an email from our Graduate Admissions office requesting supporting documentation after submitting the online application.
Students interested in online delivery–which is currently only available to students residing in Canada–should apply to the on-campus program. Access to the online delivery format sections of courses would occur after formal file assessment and seat offer.
International students are encouraged to apply early to allow sufficient time for study permit processing.
We review program applications as they are received up until the deadline for the intake requested. The selection committees make all admission decisions. You will generally be notified within four to six weeks after receipt of your completed application as to whether you have been accepted into the program and if you are waived from any GDBA courses.
If you have been short-listed, you may also receive an invitation for an interview.
Career Options / Laddering options
Where will this take me?
Studies increasingly show that business sectors believe environmental and social issues have implications for capital investments, corporate strategy, brand and reputation building. This belief is resulting in increased corporate focus on sustainability including sustainable business, corporate environmental and social responsibility, ethics and initiatives to make lasting and effective changes that support social and environmental stability.
What does this mean for you, the MScEEM student?
Job security!
Green job opportunities within the business sector are expected to see continued growth as corporate leadership is increasingly requiring extensive sustainability experience and knowledge.
The top five green employment sectors in Canada include:
Environmental protection
Green services
Renewable or green energy
Resource conservation
Sustainability planning including design and urban design
MScEEM graduates will be qualified to work in any of these sectors within government, non-profit, for-profit businesses or as a consultant:
Building sustainable development indicators, plans and strategies.
Developing corporate environmental sustainability policies and procedures.
Implementing and monitoring sustainable development strategies and programs.
Interpreting, enforcing and complying with environmental regulation and standards.
Partnering with stakeholders.
McEEM graduates work as:
Environmental managers in the private or public sector.
Industry analysts and market or policy analysts.
Managers for a not-for-profit sustainability organization.
Managers or operators of consulting firms.
Managers of sustainability policy development projects at various government levels.
Marketing and sales positions for sustainability products and practices.
Researchers and developers within corporations, research and funding agencies
Further study
Upon graduating from the MScEEM program, you can enter a PhD program in a related field or law degree with a focus on environmental law. You can also work towards your MBA.