Up to $10,000 available in MBA entrance awards
On-campus, domestic students who are studying full time may be considered for up to $10,000 in MBA entrance awards. Book an appointment with our graduate program advisor to learn more.
Book now
Master of Business Administration
Become the future of business. Gain real-world, professional results through a game-changing business administration education.
Whether your goal is launching your own start-up, gaining the upper edge in a competitive job market, increasing your salary or climbing the business ladder, a Master of Business Administration (MBA) from TRU provides you the real-life and theoretical knowledge needed to become the master of your own future in business.
TRU's MBA creates leaders and managers, capable of meeting current market challenges. The program focuses on decision making in uncertain environments, interpersonal and communication skills, ethics and social responsibility, and globalization.
As an MBA student, you will have the opportunity to complete a required graduate thesis or project. The thesis or project serves not only as a stepping stone into a PhD program, but also a competitive advantage by providing you the academic and applied research expertise, management skills and specialized knowledge you need to succeed in management or executive roles in any organization.
Why pursue a Master of Business Administration at TRU?
Make your MBA, your own.
Whether you want to follow your entrepreneurial instincts, specialize through research, skip the thesis or embrace it, TRU's MBA offers flexible programming to fit your busy schedule.
You also get to decide how to wrap-up your MBA. Choose from course-based, graduate project or graduate thesis completion options and advance into a PhD program or right into a management or executive level career.
YOU decide where and when you learn.
Study part-time or full-time. As a part-time student, you must complete the program within seven years of your start date.
Complete the program: 100% online and off-campus, 100% on-campus or a combination of both online and on-campus. Please note, online courses are only available if you are a student residing in Canada.
Choose when you get started. Online courses begin in September, January or May while on-campus courses begin in September or January.
Gain the business skills you need to succeed.
On-campus or online, TRU's unique MBA program uses innovative in-person instruction and online learning technologies to ensure all students receive a rich learning experience with a focus on quality interaction among fellow students, faculty and industry professionals.
Small class sizes ensure you are consistently receiving high quality instruction and guidance from instructors who come from diverse fields and backgrounds, offering a diverse and intercultural perspective of global business mind- and skill-sets.
Engage in your education with case approach instruction, business simulations, team projects and guest speakers.
Access an array of networking and collaboration opportunities with local businesses.
Access accelerated completion options.
If you already have a recognized business degree from an accepted North American institution, you may be able to move directly into year two of the program and complete your MBA in just one year. Note that three-year business degrees in business or commerce to do not qualify for this accelerated option.
If you have completed previous post-secondary courses that are equivalent to certain TRU MBA courses, you may be able to receive course waivers. You will have to submit official course outlines for review unless pre-approved equivalency agreements exist.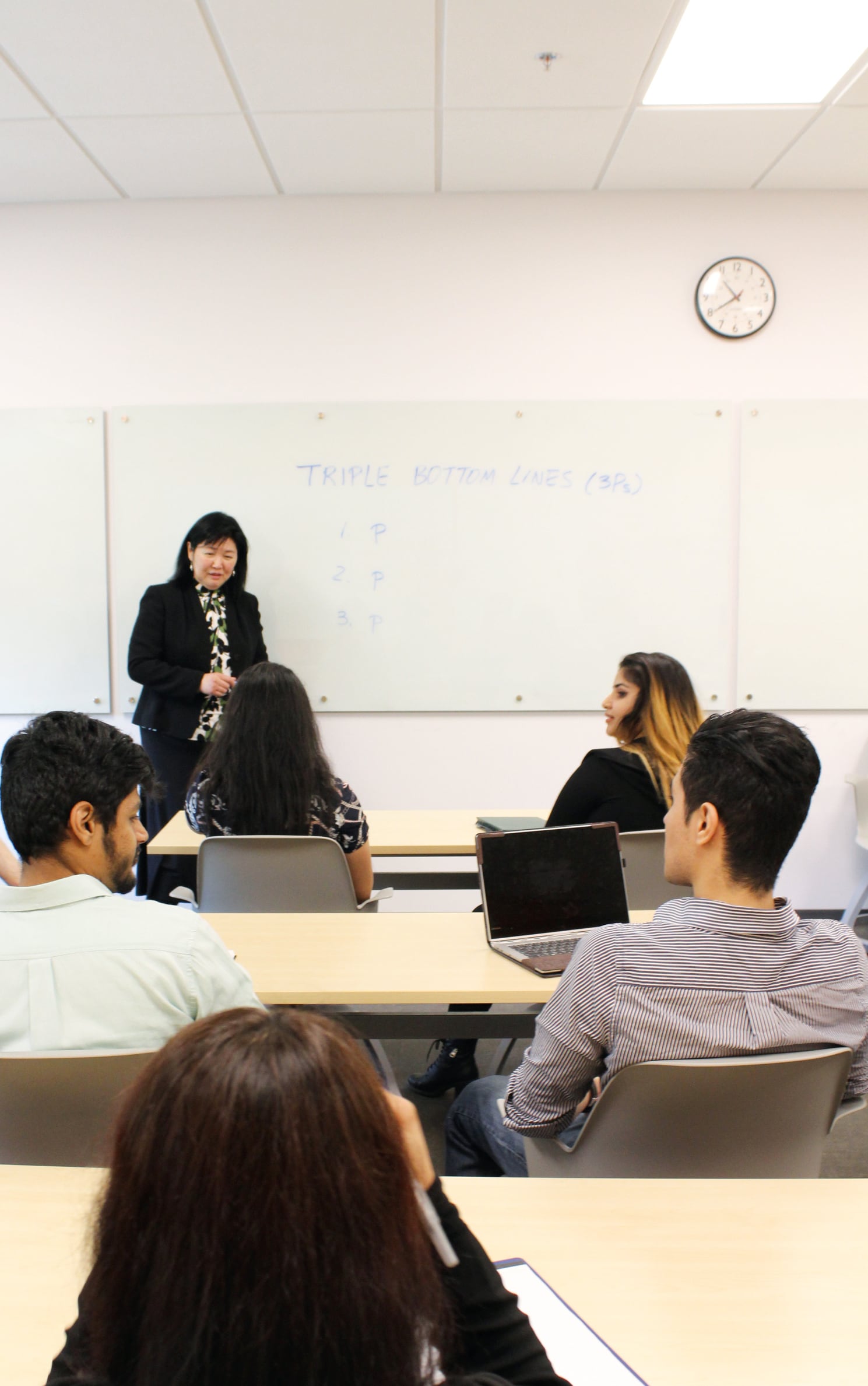 What will I learn?
With TRU's MBA, you will gain a broad education in business administration and investment management through core courses in various areas such as:
accounting
managerial statistics
business communication
business ethics
international business
business strategy
entrepreneurship
finance
human resources
decision analysis
managerial economics
marketing
operations management
supply-chain management
You will graduate with the:
Analytical skills required to apply critical thought and analytical tools to business issues.
Communications skills required to prepare and deliver quality business documents and presentations effectively and professionally both orally and in writing.
Decision-making skills required to make informed strategic, tactical and operational decisions in an uncertain and dynamic environment.
Global mindset required to recognize the value of multiculturalism and diversity as well as the complexity of the global economic environment.
Knowledge required to understand business concepts.
Leadership skills required to effectively step into management and executive level positions or helm your own start-up.
Life skills required to act ethically and independently while developing professional networks.
Sustainability awareness required to integrate and maintain a sustainable and environmentally ethical approach to all your future decision-making and management practices.
$117,997

Average salary including base salary, signing bonus and other guaranteed compensation.

91%

Of recent MBA graduates are employed in their field.

40-47%

Higher earnings for Master's degree graduates as compared to undergraduate degree holders.

9 in 10

Employers agree that hiring recent business school graduates creates value for their companies.
Source: MBA Rankings 2014-2019. Bloomberg Businessweek, Source: 2016 Census. Government of Canada Job Bank, Source: Labour market outcomes for college and university graduates, 2010 to 2015. Statistics Canada. Released 2019-12-04, Source: Business School Hiring Report. Corporate Recruiters Survey 2019. The Graduate Management Admission Council.
The Master of Business Administration (MBA) program can help you become a manager or leader capable of meeting current market challenges, through development of decision making in an uncertain environment; interpersonal and communication skills; ethics and social responsibility; and globalization. You can also develop your academic and applied research skills through the program's Graduate Thesis and Graduate Project completion options.
Whether you study on-campus or online on a full- or part-time basis to suite your busy work and life schedule, you will have access to innovative online learning technologies that deliver a rich learning experience as well as quality interaction with your fellow students, faculty and industry professionals.
TRU's MBA courses have been specifically selected to develop the knowledge and applied skills you need to achieve success at the management and executive levels of an organization in any field.
To graduate, you will need to complete required core courses and choose one of three completion options:
Course-based
Graduate project
Graduate thesis
To view complete details of the program requirements please visit MBA Program Details.
TRU's admissions committee will review your educational background in order to determine if you will start in the two-year MBA program or the one-year accelerated MBA program. Please note, gaining access into the accelerated one-year option is highly selective and usually given to recent graduates of recognized North American business degrees. Individual course waivers at the BUSN 5000-level may also be granted at the committee's discretion.
In order to be considered, you must meet all of the following admission requirements.
Academic Requirements
An acceptable three or four-year undergraduate degree in any discipline with a minimum B average (3.0 GPA) in the last 60 credits.
While not required, you may be asked to submit your GMAT score in order to aid the degree committee in assessing your application if deficiencies are identified.
Language requirement
If you did not complete your undergraduate degree at an English language university in a country where English is the primary language, you will need a recent minimum academic IELTS score of 7.0 or institutional equivalent including one of the following:
A minimum TOEFL score of 587 with a TWE of 5.0 or higher (paper-based test), or minimum score of 94 with no section below 20 (IBT).
Pearson Test of English (PTE) with an overall score of 68 with no bands less than 62.
Quantitative skills
Your quantitative skills will be assessed by the TRU MBA Committee. Adequate quantitative skills include a strong background in algebra and statistics.
If you are deficient in any areas, conditional acceptance will be considered if you agree to take specific undergraduate upgrading courses to enhance your skills prior to starting the program.
Resumé and letter of intent
Your maturity, motivation and communication skills will be assessed through the letter of intent and resumé you submit.
You do not need to have a minimum length of professional work experience to be admitted into the MBA, however prior work experience is highly recommended.
Graduation Requirements
Once you have successfully completed each course–or received course waivers or transfer credit– with an overall GPA of 3.0 and fulfilled the 30 credit TRU residency requirement with a minimum of 21 credits representing 6000-level courses, you will be awarded an MBA credential.
You will have to complete all course and program requirements within seven years from your date of admission into the MBA program.
Apply now
Your application package must include:
Online application
A letter of intent outlining education/career plans and ambitions (approximately 250 words)
A non-refundable application fee.
A personal resumé.
An official copy of your transcripts from all post-secondary institutions attended (including a certified English language copy if original transcripts are not in English).
Students whose second language is English must instruct testing services to send a copy of their TOEFL or academic IELTS or iBT results to TRU (Institutional No. 8989) unless one is already on file at TRU.
TRU graduates do not need to request TRU transcripts.
International applicants must upload all required documents at the time of application. Domestic applicants will receive an email from our Graduate Admissions office requesting supporting documentation after submitting the online application.
Students interested in online delivery–which is currently only available to students residing in Canada–should apply to the on-campus program. Access to the online delivery format sections of courses would occur after formal file assessment and seat offer.
International students are encouraged to apply early to allow sufficient time for study permit processing.
We review program applications as they are received up until the deadline for the intake requested. The selection committee makes all admission decisions. You will generally be notified within four to six weeks after receipt of your completed application as to whether or not you have been accepted into the program and if you are waived from any GDBA courses.
Career Options / Laddering options
Where will this take me?
MBA graduates work as:
Business analyst or strategist
Business development analyst, associate or manager
Market research analyst
Managing director
Investment banker
Entrepreneur/founder
Financial analyst, associate or manager
Management consultant
Marketing associate, analyst or manager
Portfolio manager
Project analyst or strategist
Product analyst, associate or manager
Program analyst, associate or manager
Operations analyst, associate or manager
Further Study
Students graduating from their MBA with a graduate thesis or project can use it as a stepping-stone into a PhD program and an eventual career in academia or consulting.