Bachelor of Social Work
Help others and create positive change
Learn the skills you need for a rewarding career as a generalist social work practitioner in various fields of practice, such as child welfare, mental health, addictions, women's services, family justice, corrections, health and Indigenous people. The BSW program has an orientation toward social justice, respect for diversity and social change.
The Bachelor of Social Work is a four-year program at the Kamloops campus and prepares students to be social workers, educational counsellors, family, marriage and other related counsellors and social and community service workers. It is a nationally accredited degree and is fully accredited by the Canadian Association for Social Work Education.
You will learn how to provide service and leadership within regional, national, and global contexts to achieve social justice, respect for diversity and social change. One of the ways this field is rewarding is that you develop the skills to identify and end barriers that prevent people from reaching their full potential. As a social worker, you can see the transformative impact you have on people's lives.
Why pursue a Bachelor of Social Work degree through TRU?
The field is in high demand. According to WorkBC, there are an estimated 3,050 openings for social workers.
The median annual salary is $77,167 for a social worker.
Alongside courses, you get an idea of what your career will look like through two social work practicums.
It is a career that makes a difference. As a social worker you are making a positive impact on individuals, families and communities.
Whether it's assisting individuals facing challenges, providing therapy or advocating for social policies, you are contributing to the well-being of those around you.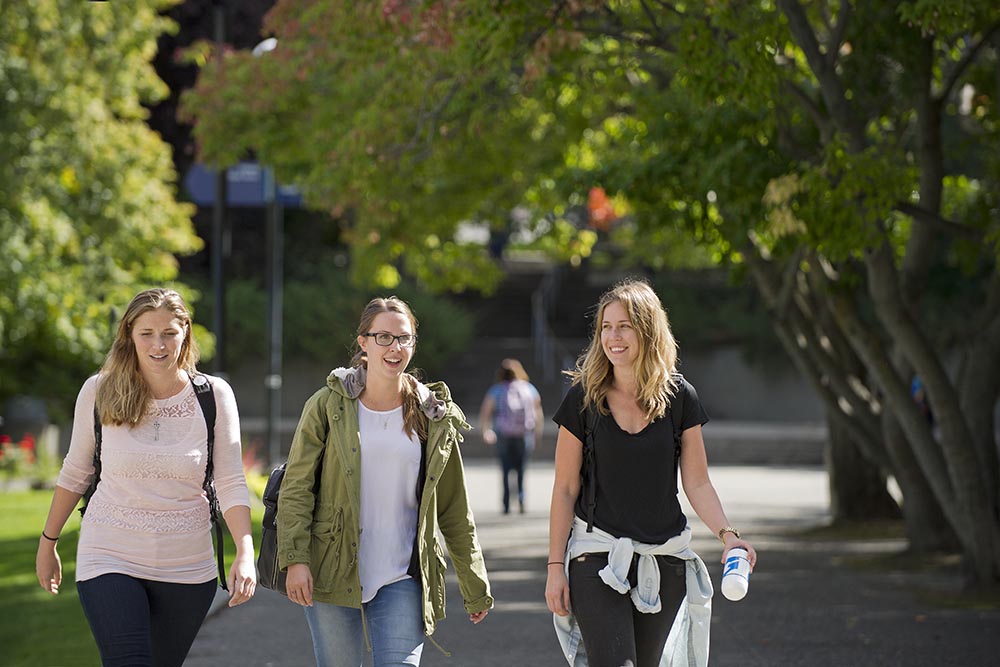 What will I learn?
The degree prepares you for various careers in the field.
A snapshot of what you will learn:
The Canadian welfare state and the response of the government to poverty in Canada.
Communication skills and apply these skills with diverse groups including anti-oppression, feminist, Aboriginal perspectives, and more.
How human behaviour is acquired, maintained, and modified. You'll also learn how to understand normal human development as a knowledge base of practice with individuals, families and groups.
Canada's immigration policies and practices to consider your own contribution to social inclusion and exclusion.
How the program works
Four-year, limited admission program with the option to study part-time or full-time
Offered on the TRU Kamloops campus
Intake is in the fall
What you need to get in
To be eligible for admission to the Bachelor of Social Work program, applicants must have completed a minimum of 54 credits (60 credits preferred). The credit requirements for admission can be met through:
General university studies: 54-60 credits. This must include:

ENGL 1100 – Introduction to University Writing
SOCW 2060 – Introduction to Social Work Practice
SOCW 2120 – Introduction to Social Welfare in Canada
OR
Completion of the Thompson Rivers University Human Service Diploma or completion of an approved Human Service/Social Service Work diploma at another institution.
A minimum GPA of 2.33 (C+) is required on the last 24 credits completed.
Where will this take me?
Graduates typically start careers as social workers; however, you can also start as educational counsellors, family, marriage and other related counsellors, as well as social and community service workers.
The support I received from them (professors) was pivotal in my growth and shaping the social worker and person I have become." It [BSW program] provided a safe space to explore topics that were extremely challenging to unpack. I learned about privilege, oppression, hierarchy, marginalization and how my social location affords me much more than I ever realized. This program opened my eyes to how powerful knowledge and learning can be and the importance of challenging societal beliefs. The connection between theory and practice provided a space for me to self-reflect. This created a deep awareness of where my passion lies and the goals I hope achieve as a social worker. Additionally, my final practicum placement is now the start of my career as practicing social worker.
— Ashley Pierobon, Bachelor of Social Work student
I met a great amount of people and support here. I've gained a sense of family at the school's Indigenous support building, and I have gained lots of experience and built networks with possible future employers. I am now just wanting to give back, and I feel that I have a great amount of experience that can relate to future clients.
— Trisha Shorson, Bachelor of Social Work student