2SLGBTQIA+
Safety, inclusion and accessibility is a priority for all students. TRU is working towards advocacy and anti-discrimination efforts for the 2SLGBTQIA+ community on campus and beyond.
No matter how you identify in regards to the gender identity or sexuality spectrum - which includes lesbian, gay, bisexual, trans*, queer/questioning and two-spirit (2SLGBTQIA+) individuals - whether you are questioning, curious, coming out or letting someone in – Student Services can offer a space for support, discussion and reflection.
Resources
Campus Resources
The Wellness Centre
The Wellness Centre strives to build a respectful and welcoming environment for all students, staff and faculty. The team aims to enhance well-being and foster a sense of community through one-to-one health consultations, workshops, and campus-wide events. The team acknowledges and recognizes that every person has a right to assess and determine their own sexuality, gender identity, and gender expression. Individuals of any and all genders, including gender non-conforming or gender expansive folks are invited to visit this safe and inclusive space to participate in the wide array of educational programming.
Counselling Department
The Counselling office is a respectful, safe and affirming atmosphere for students of all races, ability, ethnicity, sexual orientation, gender identity, religions, age, culture and socioeconomic status. Individual counselling sessions can help find solutions and develop coping strategies for stress, anxiety, depression, grief and other personal issues.
Sexualized Violence Prevention and Response
The Sexualized Violence Prevention and Response office recognizes that because of ongoing discrimination and oppression, 2SLGBTQIA+ people may experience higher rates of poverty, stigma and marginalization. This may place members of the 2SLGBTQIA+ community at higher risk of experiencing sexualized violence and additional harm while attempting to seek support and/or justice.
Regardless of when the violence occurred or whether a victim/survivor is interested is any formal reporting processes, the Sexualized Violence Prevention and Response Manager (SVPRM) can provide the following:
• Emotional support and safety planning
• Academic accommodations and emergency housing
• Information about reporting options
• Support through reporting processes if desired
• Connection to campus and community resources
• Support to those providing care to victim/survivors

If you make an appointment, you are welcome to bring a support person. You do not have to disclose an experience of violence in order to connect, and curious parties are welcome to pop by and ask questions without divulging personal experiences.
ABOUT AMBER:
It may be useful to know that Amber Huva is a white, straight, cisgender woman. She has been working in the anti-violence field for close to fifteen years, primarily with adults and children who have experienced violence but folks experiencing homelessness and concerns around mental health and substance use.
Amber has a BA from TRU (2005) and an MSW from the University of Victoria (2016). Amber has received formal training in supporting 2SLGBTQIA+ victims/survivors who have experienced violence through Interior Community Services Safe Spaces program.
Amber understands that reaching out for support is one of the bravest, most terrifying acts a victim/survivor may take, and deeply recognizes the importance of providing a respectful, informed, caring response. She also knows that she may not be the right fit for everyone, and is happy to connect folks to the support that feels most valuable to them.
If you would like to provide any feedback or work alongside the SVPR team to develop safer services and programming, please contact Amber Huva at ahuva@tru.ca.
For more information, please visit tru.ca/sexualviolence.
Additional resources: Rainn.org: LGBTQ Survivors of Sexual Violence
Student Affairs
The Office of Student Affairs provides advice and assistance to students on matters related to academic integrity, academic appeals, student emergencies, student non-academic misconduct, and student off-campus safety and travel. Case Managers can also guide students to inclusive resources and assist with updates regarding preferred name changes on institutional documentation.
Multi-Faith Chaplaincy
The Multi-Faith Chaplaincy acts as a religious and spiritual resource, encouraging thoughtful reflection and dialogue. Chaplains provide religious and spiritual care for the diverse membership of the TRU community.
All Gender Washrooms
All gender washrooms are essential to ensuring that campus feels welcoming, accessible and safe.
Access to private washrooms decreases fear and anxiety and allows any individual - no matter their gender identity or expression - the autonomy to choose whichever space suits best.
Community Resources
Kamloops Pride
Safe Spaces
Trans* Lifeline
PFLAG Kamloops
Interior Community Services Safe Spaces Program
Academic Courses
ANTH 2250

Sex, Gender and Culture (2,1,0)

ANTH 2250 Sex, Gender and Culture (2,1,0)

Credits: 3 credits
Delivery: Campus

A cross cultural survey of the different ways in which a biological condition (sex) is transformed into a cultural status. A central issue concerns the question whether there are 'natural' male and female behaviours that are expressed regardless of local cultural influences.
Prerequisite: ARCH 1110/ANTH 1210 recommended but not required.
For more information, search for this course here.
SOCI 3120

Gender Relations (3,0,0)(3,0,0)

SOCI 3120 Gender Relations (3,0,0)(3,0,0)

Credits: 3 credits
Delivery: Campus

Students examine the nature of gender relations, the social, sexual, economic and political dimensions of gender and theories of gender inequality drawn from social science research. Students investigate the influence of gender on individual identity, social interactions, and institutions such as families, media, work, education and politics. Throughout the course, students explore current issues concerning the binary nature of Western gender relations, the diversity of women and feminist movements, and the commodification of and backlash against feminist ideas and practice. Prerequisites: Completion of 45 credits
Note: Students cannot receive credit for more than one of SOCI 3120 and ANTH 3120
For more information, search for this course here.
SOCI 3160

Sexuality (3,0,0)

SOCI 3160 Sexuality (3,0,0)

Credits: 3 credits
Delivery: Campus

Students explore the many ways that sexuality, sexual practices, identities, and behaviours change both throughout history and across cultures. Sexualities are continually structured and restructured with regard to politics, ideologies, and social change. Students examine sexuality in its multiple dimensions and how it is experienced in the social world across various intersections of race, class, age, and gender.
Prerequisite: Completion of 45 credits (any discipline)
For more information, search for this course here.
SOCW 4300

Sexual Orientation and Gender Expression (3,0,0)

SOCW 4300 Sexual Orientation and Gender Expression (3,0,0)

Credits: 3 credits
Delivery: Campus

Students are introduced to interpersonal and systemic issues that sexually diverse and gender varied people encounter on a daily basis. Policies, legislation, and social contexts are analyzed with a view to understanding the impact of intersecting oppressions and privileges on sexual and gender minorities. Students discuss social work strategies to support and advocate for gay, lesbian, bisexual, trans-identified, two-spirit, intersex, queer, and questioning (GLBTTsIQQ) people, plus their families and communities, including courses of action for being an ally.
Prerequisite: SOCW 2060, SOCW 2120, admission to the Bachelor of Social Work program or permission of the program coordinator
For more information, search for this course here.
Understanding Pronoun Culture: context and insights on the importance of language
"Hi! My name is Nicole Stanchfield, and I use she/her/hers pronouns."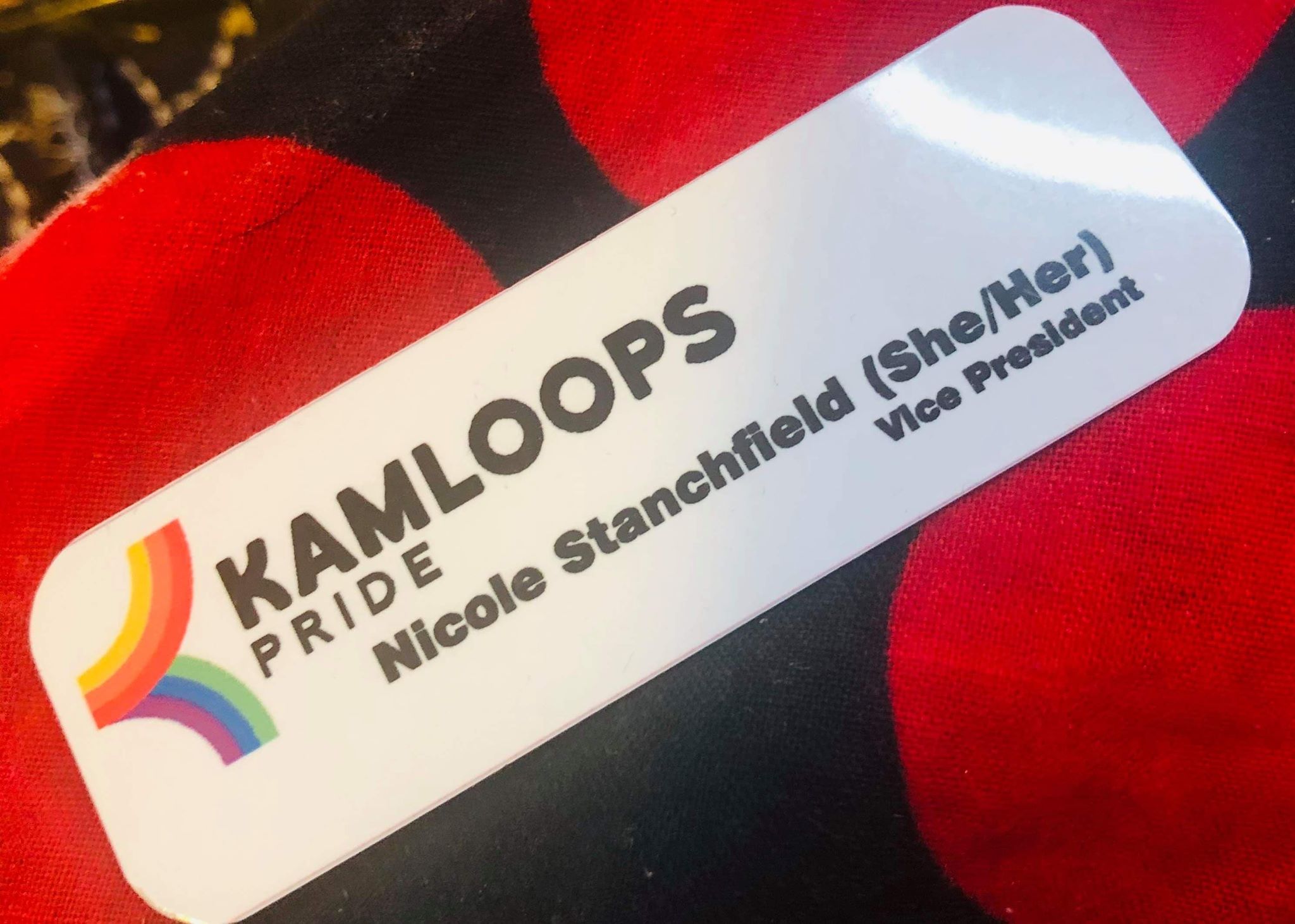 You may have heard me, or someone else, state their pronouns in class, or perhaps you've seen it in an email signature or on nametags. You may wonder why people state their pronouns. You might think that that it's confusing or unnecessary. Perhaps you're afraid to offend someone if you say the wrong thing.
Understanding the prevalence of pronoun use will provide a context to its necessity and importance. If you provide your pronouns, it lets someone from the 2SLGBTQIA+ community know that you are an ally.
Here are some pointers on how to participate in pronoun culture and why it is so important.
Before we go any further on this subject, I'd like to offer some reflexivity and state that I am cisgender and hold a lot of privilege in my body, as my sex and gender are in alignment. I may not be the most appropriate person to be speaking to the normalization of pronoun culture, but as a member of the 2SLGBTQIA+ community, many of my friends and loved ones are trans*, non-binary, and/or gender non-conforming and find this conversation tiresome because they always need to defend their identity.
It's necessary to proceed with caution around the vocabulary we use for describing, understanding and supporting individuals; what we know may not be the final or best choice for everyone. Unpacking the way we think about social constructs may help us to be more empathetic, compassionate and considerate people. Gender is social, structural, and interpersonal, so using someone's appropriate pronoun acknowledges this and recognizes their lived experience, which, in my opinion, is a crucial component to allyship.
The more that pronoun culture is used in public spaces, the saf(er) and more inclusive these spaces become so folks can feel less othered or different, and their identity becomes affirmed and visible. I encourage you to adopt this into your day-to-day conversations with anyone you come across.
Please feel free to say:
"Hi, how are you today? My name is ______, and I use _____ pronouns; what are your pronouns?
or:
"How would you like me to refer to you as?"
If they have previously shared their pronouns, but you need a reminder, say:
"Can you please remind me of which pronouns you would like me to use?"
It might take some practice, but when you hold space for members of equity-seeking groups and make allyship a priority - the rest falls into place.
If you misgender someone by using the incorrect pronoun (and you will), don't apologize profusely when someone corrects you, say:
"Thank you."
From there, all you have to do is smile, take a breath, use the appropriate pronoun, and move forward with the conversation.
If you have a strong emotional reaction, and say, "I'm sorry," it can place the person in a situation that they have to comfort you for misgendering them, or worse yet, in the uncomfortable position of having to say, "It's ok", even when it's not.
(While we're on this subject, pronouns are not "preferred" by folks; it's not like asking for no tomatoes on your burger! To some, affirming their pronoun is the difference between having a great day and the worst day.)
The next time you are introduced to someone, don't assume their gender; you can't always tell by the way someone presents themselves. State your pronouns and ask others to share theirs. All efforts are appreciated! Contribute to the building of inclusive spaces wherever you go, and share this information whenever possible.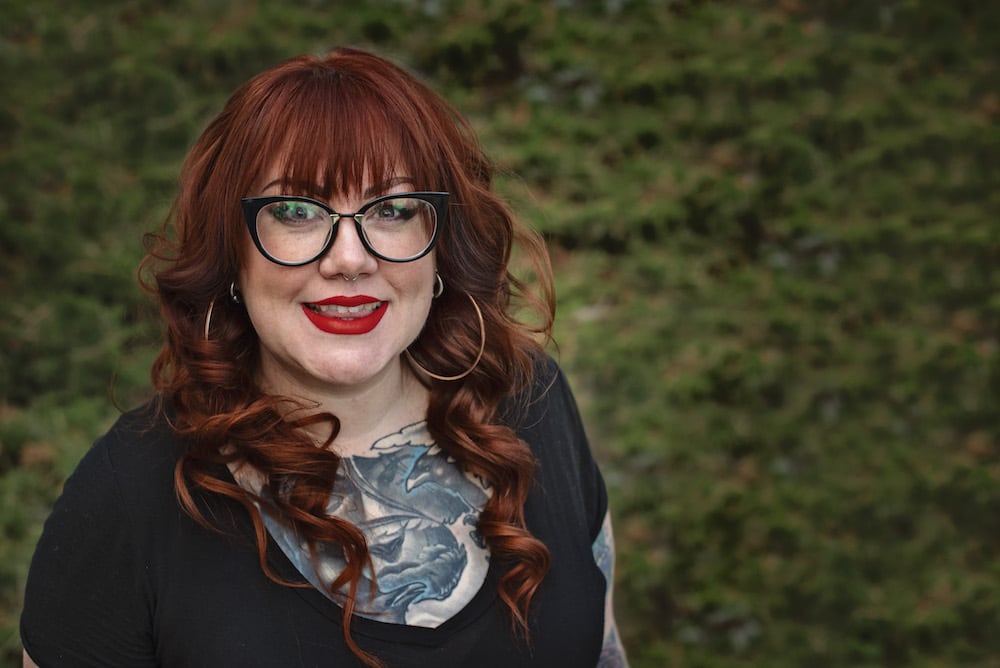 Nicole Stanchfield
Student Storyteller
Introduction to Queerness: Inclusivity and the 2SLGBTQIA+ acronym
Student Storyteller Nicole Stanchfield breaks down the differences between Gender Identity, Gender Expression, and Sexual Orientation and answers questions about the amazing 2SLGBTQIA+ community! This presentation will help participants develop allyship skills, create saf(er) spaces, and use more inclusive language to foster a sense of belonging.
TransFocus Consulting's Final Audit Report
This Report contains the findings and recommendations arising in the Gender Diversity Audit conducted by TransFocus Consulting Inc. at Thompson Rivers University from March to December 2019. The audit entailed interviews with 25 institutional stakeholders and one student organization, document reviews, and survey results from 103 students and 204 employees, of which 27% and 5% identify as transgender, non-binary, and Two Spirit (TNB2S), respectively.
Annual Progress Reporting
2020-2021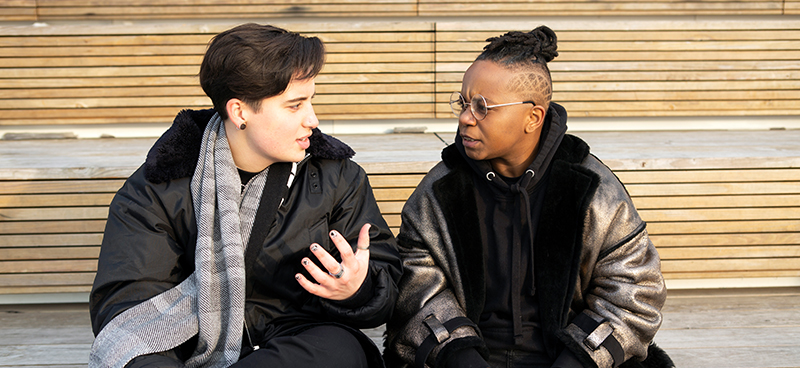 #howdoIally
Being an ally of the 2SLGBTQIA+ community requires action, visibility and reflection. Allyship is an ongoing work in progress - and it's an inside job.
recognize your privileges and internalized biases
acknowledge the intersectional aspects of race, class and religion and understand how that can impact an individual's ability to "come out."
question or call out homophobic rhetoric, commentary and humour
avoid assumptions about sexual or gender identity
ask which pronoun a person would prefer
consider the individual's safety - never out someone
resist the urge to encourage an individual to come out before they are ready as there might be internal and external factors that you don't understand
use gender inclusive terms: "Hello, friends" or "Good Morning, all."
study 2SLGBTQIA+ history before attending Pride events as understanding context is essential when you are a guest in queer spaces
You Can Play Project
Locker rooms should be safe and sports venues should be free from homophobia. Athletes should be judged on talent, heart and work ethic, not sexual orientation and/or gender identity. The You Can Play Project ensures that 2SLGBTQIA+ athletes and allies teaming up for respect. TRU WolfPack contributed with their own message to ensure that student-athletes are supported on and off the field.
Know Your Rights
A Toolkit for 2SLGBTQIA+ Folks in Navigating Youth, Healthcare and Criminal Justice Issues. Know Your Rights is a collaborative project between the Kamloops Pride Association and Pro Bono Students Canada, Thompson Rivers University Law School chapter.
Learn more
Photo gallery of Pride Parade